Gmail How To
This article gives an overview of Gmail, the popular e-mail service from Google.
What is Gmail?
Gmail is a free e-mail service from Google that provides an easy-to-use webmail interface. The initial beta release of Gmail was launched by Google in 2004 and was getting a lot of attention for giving 1 GB storage space for each mail account. This was much more than any other webmail service at that time. The maximum amount of storage is increasing every day and currently more than 7 GB can be used. In addition to all storage space, Gmail is also known for having good spam filters, grouping conversations into threads and great search features.
How to get Gmail?
To sign up for Gmail is easy. Just go to
www.gmail.com
and create a new account. There is also a service called Google Apps where Google services like Gmail can be used with a custom domain name. Instead of having the e-mail address my.name@gmail.com, you can have my.name@mydomain.com.
How to use Gmail?
Again, simply use your web browser and navigate to
www.gmail.com
. Sign in using your e-mail address and password. Google provides a good
getting started guide
where you can learn more about the Gmail webmail interface. In addition to the webmail interface, Gmail can also be accessed using POP3 or IMAP protocols, where IMAP is recommended because of all limitations in POP3. Read-only access to latest unread mail can also be access using the lightweight ATOM protocol.
Gmail Notifier Pro
supports both the
Gmail ATOM and IMAP
protocols.
Gmail notifier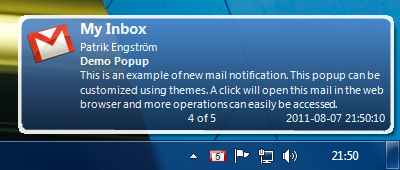 It is recommended to use a Gmail notifier together with Gmail to get notifications on the desktop when a new mail arrives. Using a Gmail notifier, you don't have to sign in to your Gmail account and check for mail all the time. If you have multiple Gmail accounts, manually signing in to all of them to check mail is not efficient. Gmail Notifier Pro is a Windows application that supports multiple Gmail accounts and can notify you when there are new mail. Gmail Notifier Pro also support
automatic sign in
.
Gmail security
Gmail is secure and uses HTTPS encryption when accessing the webmail. Gmail Notifier Pro is also using encrypted connections when communicating with Gmail.