Gmail Notifier Pro main window
Overview of all configured accounts. All unread mail in all mail boxes are listed. For Google News and RSS/Atom feeds, all news entries are listed.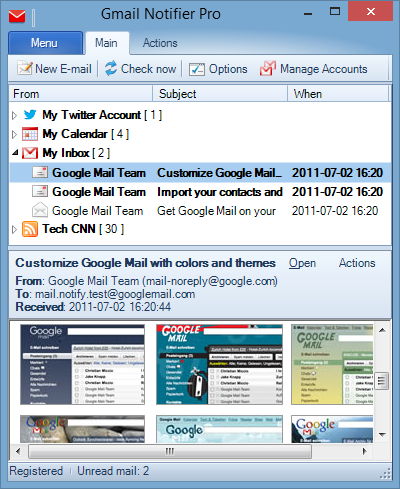 Layout configured to view content on right side. The ribbon toolbar gives easy access to all mail operations like
Mark as read
and
Delete
.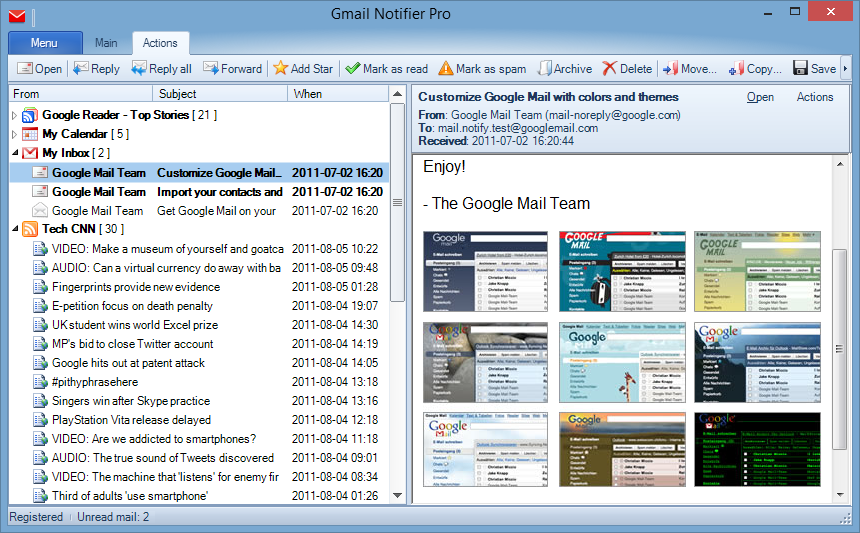 Notifications
Notification when a new mail is received. This configuration uses a semi-transparent popup. The popup window can be moved to any position on the screen.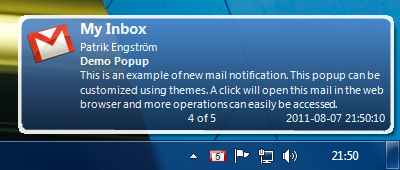 It's also possible to open the mail in a web browser and use the built in reply feature in Gmail Notifier Pro to quickly answer a mail.
This notification is configured to use another theme and a smaller popup. The size and layout of the notifications can be fully customized.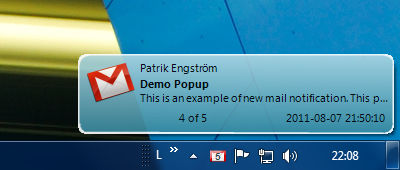 Notification about an unread news item from a RSS feed. This account is configured to use yet another theme.
Notification area and flyout
This notification is showing one of the included background images. The Windows notification area is showing the amount of unread messages and news items for two accounts that have been configured to show their own icons.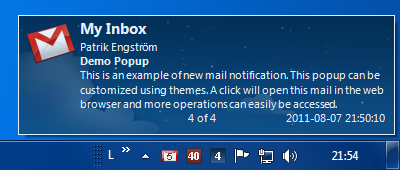 This image also showing the individual account icons in the Windows notification area. Clicking any of the icons will launch the account in the web browser. For Google/Gmail accounts, automatic account sign in will be used.

The screenshot below illustrates the flyout feature that gives an overview of the Google+ notifications together with mail notifications.
E-mail Integration in Windows
Gmail Notifier Pro can be registered as default program for e-mail, making it easy to send files as attachments using the e-mail sending feature.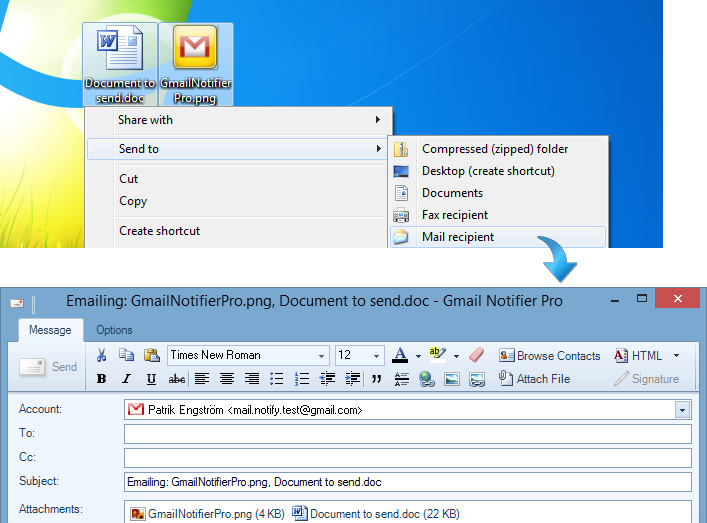 Send To and Gmail attachments
Send To feature also supports using the Gmail composer.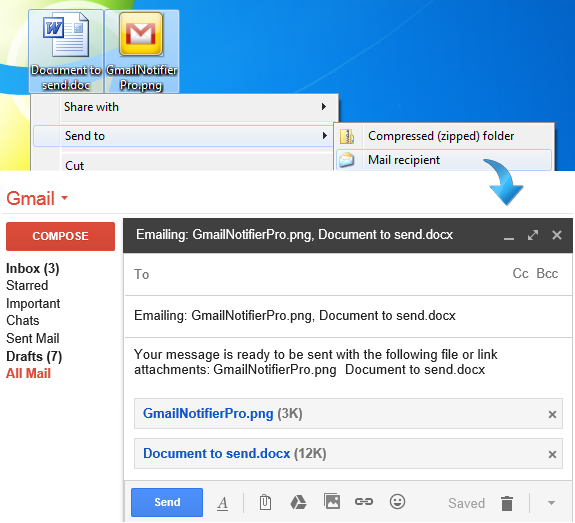 Configuration
The configuration is easy to use and there are many useful settings.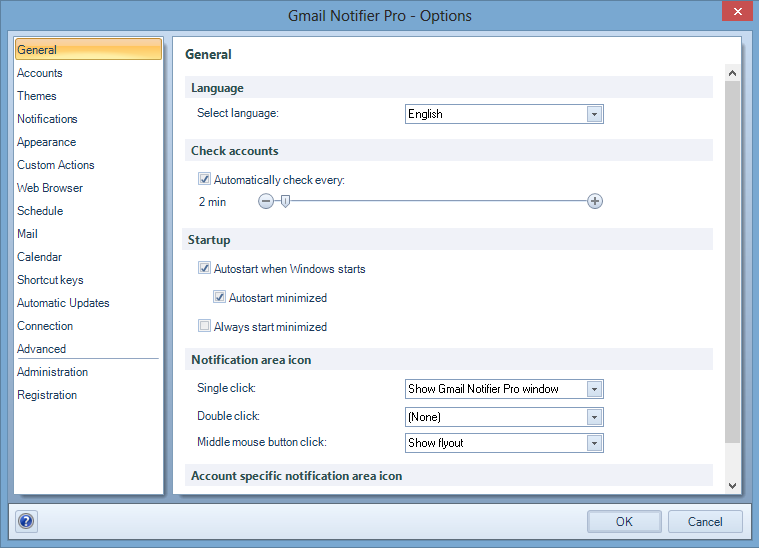 Configuration of accounts to monitor. The color bar on the left side of the account icon shows the main colors for the selected theme.
Configuration of themes to customize the notifications.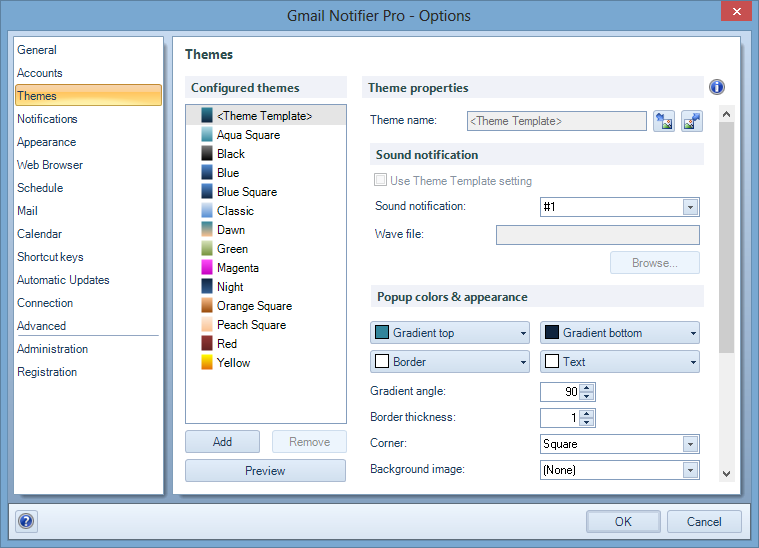 Supported accounts types
A list of supported account types to be monitored:
Google Gmail Atom, Google Gmail, Microsoft Outlook.com (formerly Live Hotmail), Yahoo! Mail, Microsoft Exchange, RSS/Atom, Google News, IMAP and POP, Google Calendar, Google Drive, Feedly feeds, Google+, Facebook, Twitter, Microsoft Outlook.com Calendar and Microsoft SkyDrive.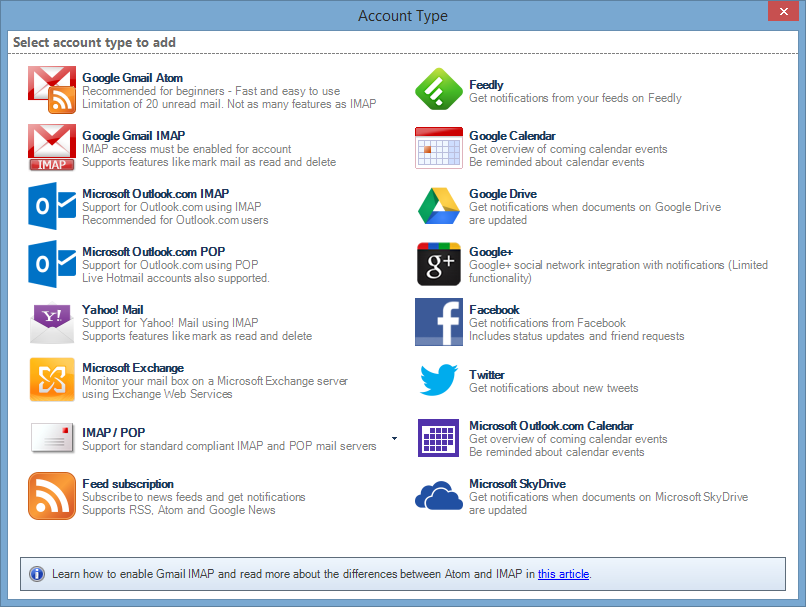 Write mail using Gmail Notifier Pro
Write mail without using the web browser. Supports HTML formatting and attachments.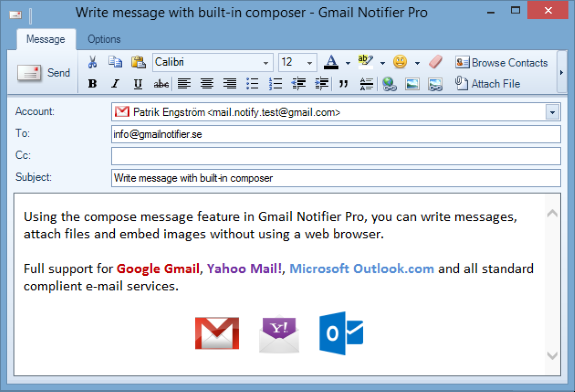 Google Calendar reminders
Integration with Google Calendar gives reminders for calendar events.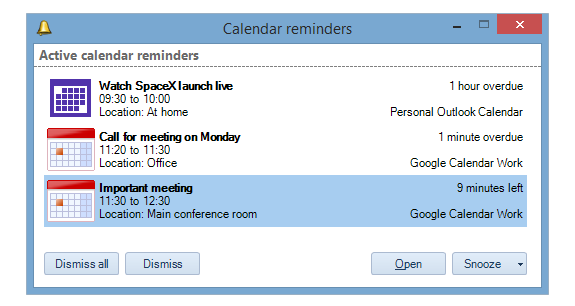 Automatic updates
Gmail Notifier Pro supports automatic updates when there is a new version available.