Write mail using Gmail Notifier Pro
This section explains how to write mail using Gmail Notifier Pro without opening the web browser.
How to access Compose Mail
Select a mail or a Gmail account in the main window. Open the menu by clicking
Actions
or by opening the right click menu. Select
New mail...
. It's also possible right click on the icon in system tray (lower right corner), and select
Compose new mail...
Compose Mail dialog
Send

Send the mail.

Browse Contact

Open a new dialog for browsing Google Contacts for current account. Using this feature it's possible to select a contact without typing the e-mail address.

Attach File

Open a dialog to browse for files to send as attachments.

Account (list)

Select account to be used for sending the mail.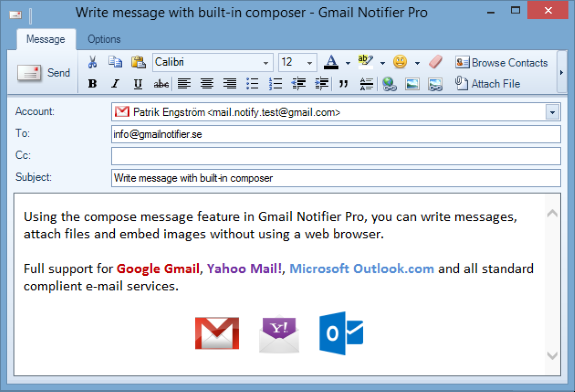 Attachments
When attaching files to the mail, the files will be displayed in the attachments section. To remove an attachment, right click on the attachment and select
Delete
.

Text and Format
The format menu is used to select between sending the mail as HTML or as plain text. The icons in the toolbar can be used to format the text, select font, size and color of the text.