Setup IMAP accounts with multiple folders
This section explain how to add a new IMAP account in Gmail Notifier Pro and include multiple folders. The IMAP protocol support multiple folders. In Gmail, there is a concept of labels, where a message may have multiple labels. When accessing Gmail using IMAP, a label will be represented as a folder. Gmail Notifier Pro support monitoring multiple folders for new messages and can also display the content of the folders. When adding a new IMAP account in Gmail Notifier Pro, only the Inbox folder will be monitored by default. This is the folder when new messages arrive, and Gmail Notifier Pro shows notification for the new incoming messages. Gmail Notifier Pro can be configured to monitor multiple folders. In the account properties dialog for IMAP accounts, enable
Monitor custom folder
and then click the Browse button as indicated below.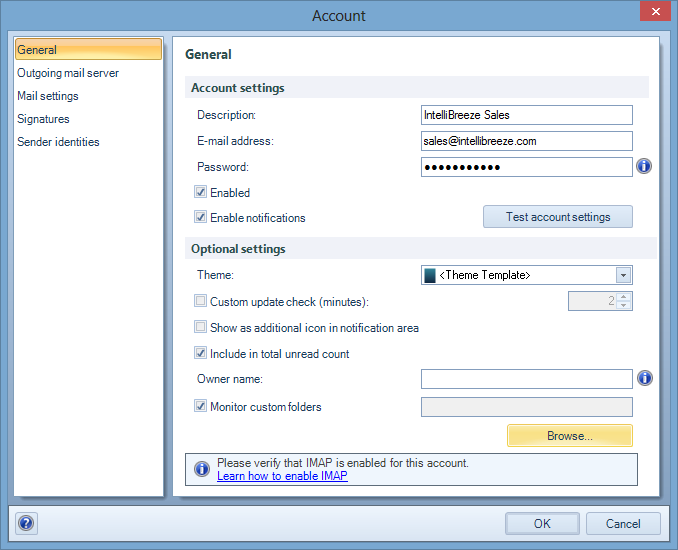 Gmail Notifier Pro will list all available folders. For each folder there are two columns. By setting
Show
indicates that Gmail Notifier Pro will show the folder with its content in the main window. By also setting
Notifications
will instruct Gmail Notifier Pro to show notifications for messages in this folder. To display some of the common folders, like
Sent Mail, Spam, Starred
and
Trash
, simply check the
Show
for these folders as indicated below.